Stumbled upon a research paper I didn't know before on the social uses of advertising taglines among young men from 2007:
Most of the social uses or tagline recitals stemmed from television advertising campaigns. Respondents said that they would not normally use any copy from print ads, poster ads, radio or internet ads because 'it's just not done, everyone our age knows what you're talking about with TV'. (Mitchell et. al., 2007: 209)
One of the quotes from the research:
Was on the phone in the evening when a new Nike 'Freestyle' ad came on TV so I couldn't really concentrate on the advert. When I was finished on the phone I asked my housemate what the advert was like and he said it was really cool and my other housemate said it was the best one yet and I felt a bit left out and my housemate seemed to think they were better than me cos they had seen it and I hadn't, like they had something over me, some sort of power and they said I would have to watch TV all week to see it and wouldn't tell me what happens in the advert. I then watched TV all night and secretly hoped it would actually come on but it never did. (Mitchell et. al., 2007: 212)
Advertising was always 'social' media. It's just that business theory didn't get it:
Thus the audience that current theories of advertising describe is not an audience at all but rather an "aggregate of individual consumers" (Sheth 1979), p. 415) who respond to advertising stimuli while remaining "islands of cognitive and affective responses, unconnected to a social world, detached from culture" ((Buttle 1991), p. 97). At the center of the great majority of theories in advertising research stands a lonely individual, cut off from the social contexts in which he or she, you and I, actually reside. (Ritson & Elliott 1999, S. 1)
Taken from:
Mitchell, V., Macklin, J.E. & Paxman, J., 2007. Social uses of advertising: an example of young male adults. International Journal of Advertising, 26(2), S. 199.
Related research:
Lannon, J. & Cooper, P., 1983. Humanistic advertising: a holistic cultural perspective.
Buttle, F., 1991. What do people do with advertising. International Journal of Advertising, 10(2), S. 95–110.
O'Donohoe, S., 1994. Advertising uses and gratifications. European Journal of Marketing, 28(8/9), S. 52–75.
Ritson, M. & Elliott, R., 1999. The social uses of advertising: an ethnographic study of adolescent advertising audiences. Journal of Consumer Research, 26(3), S. 260–277.
Heath, R. & Feldwick, P., 2008. Fifty years using the wrong model of advertising. International journal of market research, 50(1), S. 29.
At the moment a presentation and a video by Byron Sharp about the science of marketing are making rounds in the plannersphere. They are based on Sharp's book "How Brands Grow. What marketers don't know". About this book Martin Weigel says:
If you want to buy one book this year to help you (or the marketer in your life) be a better a marketer, don't buy all the data-devoid stuff that makes us feel cutting edge, or massages our egos. I suggest you read this one. It is full of proper data and analysis. And full of the stuff that as Sharp says, marketers should know, but many clearly don't. Like double jeopardy, retention double jeopardy, the law of buyer moderation, natural monopoly law, etc.

It's easily the most useful, challenging and illuminating book about marketing I've read in years.
I haven't read the book yet, but after this enthusiastic review it is now lying on my desk. From what I can see, a lot of it is based on Andrew Ehrenberg's work, which is not surprising, given that Sharp is at the Ehrenberg-Bass Institute. For those of you who don't know Ehrenberg, who passed away last summer: he was the sage of marketing science, looking for and finding consistent marketing laws, most notably the Double Jeopardy law. He also wrote some interesting papers about advertising effects and a quite interesting comment in Strategy+Business called Marketing: Are you Really a Realist (free registration).
As shown in his work Ehrenberg is a passionate advocate of using the methods of physics in social science:
Even in a field supposed to be dominated by people's impulses to buy – that of marketing – there are striking regularities … [yet] people seldom expect there to be law-like regularities in social science ('Is it a science?') and therefore do not even look for them. (Ehrenberg 1993)
Sharp is promoting the same school of thought and you should definitely have a look at his talk.

Undeniably, law-like patterns as the ones he mentions in his talk are interesting. I am a huge believer in Ehrenberg's view of advertising as being not so much persuading than nudging and that salience (in combination with widespread availability) is what often explains big brands better than anything else. However, with the nature of generalizations comes – I think – an exaggerated trust in what 'the data' tells us, which might lead to some laziness in interpretation, analysis and understanding. After all, what 'the data' doesn't tell can't be there, right?
Now this might sound like the sulky response of a 'social constructivist' (or any other 'anti-positivist'), but have a look at how Sharp presents his argument about Harley Davidson. He's spot on when he says that Harley and Apple are the two brands always being mentioned as examples for cult-like loyalty and other brand anomalies and he rightfully dismisses these myths. However, when it comes to the Harley consumer segmentations he goes on to laugh about the fact that only few of Harley consumers are actually like one would imagine Harley riders, while the rest of them lives a more 'regular' life – you know, the one without violence and drug trafficking. He argues then, that we spend too much time pampering the loyals and not enough time growing the others. Now, without having read the book, in arguing like that I think he omits that the 90% might only drive a Harley because they'd love to feel like the tough guy once in a while. And while I do know that this isn't exactly an insight or new thought, I think it is quite a good accomplishment to commercially 'reach' 9 times the people that are actually into the meaning you promote, the one your brand is perceived to (theoretically) stand for. This is – in my humble opinion – something that empirical marketing science couldn't explain, because it's not and won't ever be in the 'data'.
The more you rely on generalizations, the more general your insights and understanding becomes. To fit a situation into your law, you have to chip away parts of what you want to explain.
So now I've got to read that book.
Sources:
Ehrenberg, Andrew (1993): Even the social sciences have laws', Nature, vol. 365, p. 385.
Sharp, Byron (2010): How Brands Grow. What Marketers Don't Know.
So apparently it's "The Future of Advertising" time. Again.
There's a a Fast Company article with that title compiling interviews with a host of well-respected industry people circulating, that was as usual followed by a storm of retweets and opinions. While the arguments are all valid and interesting and while I certainly have an opinion about the topic myself, I immediately had to think of something I wrote in 2008 (in German) when I was analyzing the then darling of the advertising industry – 'viral' advertising – for my bachelor thesis. So because I still think it's true, I thought it might be a good idea to translate the piece. Here is the trimmed down version:
One thing that concepts like 'guerilla marketing', 'viral' marketing or 'viral' advertising all have in common is a more or less implicit assumption of a crisis of advertising: 'annoyance by advertising', 'flood of advertising' and 'avoidance of advertising' are the commonly used concepts in the discourse.
Say 'design' and people think Rams, Ives, Eames. Say advertising and they think Cillit Bang.
… Russell Davies wrote in his blog in 2008. And he's certainly not wrong. However, people's attitude towards advertising is a bit paradox. While advertising (in general) provokes exactly the above mentioned reactions, advertising (in particular cases) is often remembered with joy, as Zurstiege (2005: 26ff) shows in his research. While zapping and DVRs lead to growing pains for advertisers, there are hundreds of ads on YouTube with thousands or even millions of views. [At the point when I wrote this, there was no Old Spice or Write The Future to refer to but only a Gorilla playing the drums.] All this approaches like 'viral' advertising, 'viral' marketing, guerilla marketing and whatnot tried to fulfill their effect by packing themselves as an "entertainment present" (Zurstiege 2007: 143) and to therefore counteract advertising avoidance and advertising annoyance.
I believe if you want to be successful in the world of viral, you need to play by the rules of entertainment, not the rules of selling.
(Kevin Roddy 2006)
Entertainment, however, isn't exactly a new approach. All along, at least in theory advertising tried to bring outstanding things to the consumers' eyes. This is – after all, what led to the aestheticisation of advertising through the employment of renowned artists in the 19th century in the first place (Zurstiege 2007: 22f).
Leaving advertising annoyance and advertising avoidance aside for a second, there's of course also a lack of trust in the effects of advertising. As a representative for this part of the discourse who's better to quote than Philip Kotler:
The average American is exposed to several hundred ad messages a day and is trying to tune out. TV advertising is losing its effectiveness because of growing advertising clutter, the increasing number of channels, the availability of zapping mechanisms, and reduced watching of television by certain groups. The result is that marketers must consider other methods of getting consumer attentions.
(Kotler 2005)
This chain of reasoning – information overload, explosion of channels, media use – is found in pretty much every introducing statement of pretty much every alternative approach:
Because of an increasing amount of media and advertising, DVRs and the changed media use, even more since the rise of the internet, we need new methods to solve the crisis of advertising.
That's how it goes. And be it online-advertising, PR, event marketing or the much quoted 'integrated communication', all of them are united by the fact that they lay claim to the leadership role in clients' marketing budget. [And the same may be said about 'transmedia' and 'crowdsourceing' and whatever other approach …]. But while information overload might partly explain the development of new approaches that aim at media content spreading digitally, even this isn't a new phenomenon. What we have institutionalized as 'information overload' and 'advertising clutter' already had a name in the 19th century: Schilderpest ('signboard plague') (Zurstiege 2008: 129).
Advertising was finished from the outset. ["Die Werbung war von Anfang an am Ende."]

(Schmidt 2004: 53ff)
The accusation of lying, the persistant suspicion of manipulation, the 'sensory overload' and the identity crisis because of the supposed incapability to produce socially and culturally relevant outcomes (cf. Schmidt 2004: 54), are all derived from the social functional system advertising itself. [It's in it's DNA, if you want to say it like that.]
Advertising produces scarcity of attention by achieving attention. Advertising needs bad advertising to stand out with good. Advertising – as a system – necessarily produces its own problems and solves it by adapting to changing social conditions (ibid. 73f). Advertising – and this is also shown by the appearance of 'viral advertising' [insert buzzword here] – lives on new problems which can then be opposed by the creation of new and differentiating approaches (ibid. 74). The crisis of advertising [and therefore the question about it's future] isn't new, but an essential part of the system, the permanently repeats itself under different circumstances.
Sources:
Davies, Russel (2008): on the goodness and badness of advertising
Kotler, Philip: Advertising vs. PR: Kotler on Kotler.
Kotler, Philip/Bliemel, Friedhelm (2006): Marketing-Management. Analyse, Planung und Verwirklichung. 10., überarbeitete und aktualisierte Auflage. München [u.a.]: Pearson Studium.
Roddy, Kevin (2006) in Leonard, Devin (2006): Viral Ads: It's an Epidemic. In: Fortune. New York: 2. Oktober 2006, 154. Jg., Heft 7/2006, 61.
Schmidt, Siegfried J. (2004): Die Werbung ist vom Anfang an am Ende. In: Die Depression der Werbung : Berichte von der Couch / Berliner KommunikationsFORUM e.V. Sebastian Kemmler … (Hrsg.).Göttingen: Business Village, 53-77.
Zurstiege, Guido (2005): Zwischen Kritik und Faszination. Was wir beobachten, wenn wir die Werbung beobachten, wie sie die Gesellschaft beobachtet. Köln: Halem.
Zurstiege, Guido (2007): Werbeforschung. Konstanz: UVK-Verl.-Ges.
Zurstiege, Guido (2008): Der Konsum Dritter Orte. In: Kai-Uwe Hellmann (2008): Räume des Konsums: Über den Funktionswandel von Räumlichkeit im Zeitalter des Konsumismus. Wiesbaden: VS, Verl. für Sozialwissenschaften.
(Guido Zurstiege and Siegfried Schmidt are renowned professors for communication, media and culture in Germany and among the few who have specifically focused on advertising.)
After getting a lot of useful comments (thank you!) on my initial brainstorming on possible topics for my master thesis I cut them down to three and handed in a description of three very broad topics, all with some more concrete research questions: (1) 'Post-Postmodern' Uses of Brands and Media?, (2) 'Continuities from Propaganda Theory to Planning:' and (3) Reception and Usage of 'Transmedia' Narratives.
So here's my translated description of topic (1), that I handed in before leaving and which has got a strong endorsement from the prof while I was in Tanzania.
'Post-Postmodern' Uses of Brands and Media?
According to Holt (2002) there are two relevant branding paradigms in the 20th century. The first is called "Modern Branding" and was based on a domineering, cultural engineering approach. It was dominant until the 60s, when the 'creative revolution' around people like Bill Bernbach appeared.
Marketers made no pretense about their intentions in these branding efforts. They directed consumers as to how they should live and why their brand should be a central part of this kind of life. Advertisements shared a paternal voice that is particular to this era. By contemporary standards, these ads appear naive and didactic in their approach. This paternalism reveals that, at the time, consumer culture allowed companies to act as cultural authorities. Their advice was not only accepted but sought out. (Holt 2002: 80)
This modell – now being popularized by the TV series Mad Men – was inspired both by Freudian psychoanalysis and the scientific approach to advertising and persuasion at the time, provoked rising resistance in the 60s, with books like The Hidden Persuaders and other critical analysis appearing on bookshelves. With the increasing professionalization of the industry and knowledge about the branding paradigm more and more entering the public sphere, the public opinion was increasingly directed against the supposed manipulation of the individual.
Branding could no longer prescribe tastes in a way that was perceived as domineering. People had to be able to experience consumption as a volitional site of personal development, achievement, and self-creation. Increasingly, they could not tolerate the idea that they were to live in accord with a company-generated template. (Holt 2002: 82)
In reaction to the creative and anti-commercial countercultures of the 60s – and with that at the time when interpretative approaches started to challenge the predominant stimulus response thinking – a new branding paradigm emerged. Holt calls this paradigm "Postmodern Branding". In a postmodern consumer culture, the role of branding would emerge from the supplier of a cultural blueprint – "How should I live?" – to supposedly authentic, cultural ressources to be used for the identity projects of consumers who strive for independence from paternalistic and authoritarian corporations.
Postmodern consumer culture has adopted a particular notion of authenticity that has proved particularly challenging to marketers. To be authentic, brands must be disinterested; they must be perceived as invented and disseminated by parties without an instrumental economic agenda, by people who are intrinsically motivated by their inherent value. Postmodern consumers perceive modern branding efforts to be inauthentic because they ooze with the commercial intent of their sponsors. (Holt 2002: 84)
To produce these ressources in a distanced and commercially disinterested way, five branding techniques – also made public by Klein 1999 and Frank 1998) have emerged over time: (Holt 2002: 83ff)
Authentic Cultural Resources
Ironic, Reflexive Brand Persona
Coattailing on Cultural Epicenters
Life World Emplacement
Stealth Branding
All of these techniques however, are confronted with substantial contradictions. Ironic distance has been imitated without end and is now outdated, stealth marketing is getting more and more aggressive and reaching its limits, marketers are running out of counterculture content to tap for their campaigns as the authenticity market heats up, consumers are increasingly peeling away the brand veneer and "collectively, postmodern branding floods social life with evangelical calls to pursue personal sovereignty through brands" (ibid.).
For Holt these phenomena (published in 2002 – before 'social media' even existed) pointed to an expiration of the postmodern branding paradigm. Whereas brands in the future would still have to offer authentic and relevant resources, authenticity won't not be conveyed distance the brand from a profit motive, but through a role that Hold calls 'citizen artist'.
So brands will become another of expressive culture, no different in principle from films or television programs or rock bands (which, in turn, are increasingly treated and perceived as brands). […] Postmodern brands have little value in this new consumer culture. Because they rely so much on the cultural work of disinterested others and work so hard to deny that the brand itself stands for anything by itself (for fear of being tagged as cultural engineers), postmodern brands lack an original point of view that they can claim as their own. Rather than take a free ride on the backs of pop stars, indie films, and social viruses, brands will be valued to the extent that they deliver creatively, similar to other cultural products.
The citizen part on the other hand is concerned with the socially responsable behavior of corporations and their brands, basically answering the question of what is behind the brand veneer.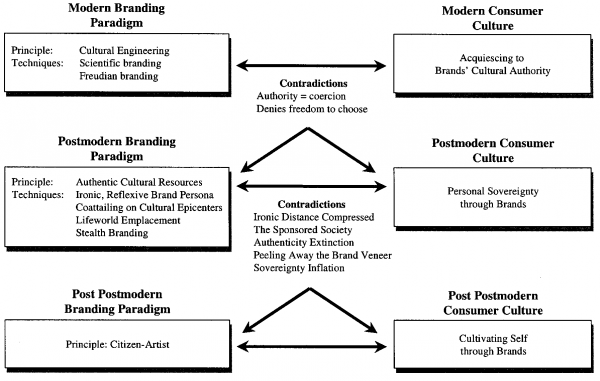 This topic and Holt's only superficially covered hypotheses give rise to a lot of questions that might be covered in a master thesis. (Not all in one of course …)
What – to people – is authenticity in advertising and marketing communication? How is it operationalized? What are expectations?
How does authenticity translate in regards to aesthetics – from user-generated content to brands using a documentary style?
How does the use of digital, social networks ('social media') have affect the 'corporate cool machine' as described by Holt in the postmodern branding paradigm. Is his hypothesis regarding brands being used in the role of citizen artists true? Or, more concrete: which range of uses of original, authentic and creative brand content can be shown? And in regards to the 'citizen' part of the hypothesis: do people really look behind the brand veneer and if so, how?
Frank, T., 1998. The Conquest of Cool: Business Culture, Counterculture, and the Rise of Hip Consumerism, University of Chicago Press.
Holt, D.B., 2002. Why do brands cause trouble? A dialectical theory of consumer culture and branding. Journal of Consumer Research, 29(1), S.70–90.
Klein, N., 1999. No Logo: no space, no choice, no jobs ; taking aim at the brand bullies, New York, NY: Picador.
Mad Men – AMC. Mad Men. Available at: http://www.amctv.com/originals/madmen/
I recently read an article at contagious (hat tip to Sebastian Garn for sharing) about Amsterdam Worldwide claiming to create better global campaigns because they are using a scientific method of analyzing cultures – which they call Cultural Mapping. That tool they cite is Hofstede's cultural dimensions, which basically says people – or cultures – are different in the dimensions Power Distance; Individualism; Masculinity and Uncertainty Avoidance.
While I certainly agree that being culturally relevant is important, if not the most important aspect of brand management and communication, I do find a bunch of things interesting in that story.
First of all, it's not like Amsterdam Worldwide has uncovered an academic secret. This is one of the most cited theories ever. According to Google Scholar he's been cited 8810 times and from what I've been told at the university, even ahead of guys such as Jesus or Karl Marx. I think I heard it alone 5 to 10 times in my bachelor. Of course, it's not like they are saying they use this model exclusively, but I still find it strange that an agency runs an article about something everybody who ever did an intercultural training has heard of before.
Then of course, using this model – just as any other model – doesn't guarantee anything. It's a model to not forget cultural dimensions but I think it's not that good of an idea to base roundhouse-kick-like generalizations upon it or to expect ground-breaking "insights" from using it. I just think that focusing on a smaller group of people and finding out something interesting about them is more important than matching communication with a top-level insight about what is modeled as mainstream culture. (I always try to keep in mind that there might be bigger differences between Austrian IT-ers and "blue collar" workers than between IT-ers from Austria and Slovakia. And let's not forget gender issues, age and other stuff.)
Last but not least, the research Hofstede has build his theory upon has been heavily criticized. It's pretty old and it was done only with IBM employees at the beginning – IT people not exactly being the most representative sample group. Also, for example for Austria it concluded that we have among the lowest power distance score worldwide, meaning
"[…] people expect and accept power relations that are more consultative or democratic. People relate to one another more as equals regardless of formal positions. Subordinates are more comfortable with and demand the right to contribute to and critique the decisions of those in power".
Now the intersting thing is that this is totally against what Austrian common sense would tell you and what researchers at my university found out, and it can only be interpreted and understood if you spend some time thinking about Austrian history and culture. What this dimension doesn't tell you is that "Austrians" do like to complain about their bosses, don't respect them too much and do think that their politicians, doctors, intellectuals and whoever else aren't any smarter or deserving than "we" are. This, however, is only true if said people aren't in the room. Once they are present the generalized "we" very much focuses on academic titles and job titles, hierarchies and power. So "Austrias" have a pretty much schizophrenic relationship with authority which my prof reasoned is because of some 1000 years of monarchy and bureaucratic state. "Cultural Mapping" won't tell you this. And neither will it tell you how second-generation immigrants have appropriated this into their lives.
I like theories and models, I just think one has to be careful using them.
(This post contains a bunch of personal stuff, post-rationalization and opinions – typical planning bollocks -, just so you know. If you make it through the text there'll be some nice videos though.)
First, some background. I always liked Nokia. When I was a teen, as far as I remember Nokia was a synonym for modern times and a cosmopolitan view of the world. They were not exactly on the cutting edge of everything but compared to the likes of Ericsson, Siemens and others, they were symbols of a connected global world. I got my first phone when I was 14, a blue Motorola that somehow looked like an egg, and then a pretty flashy panasonic that my dad wouldn't use anymore. But my first real mobile was a Nokia 6210. It was the phone I used to text my girlfriend back then – first love and all. I think it was able to store a bunch-load of texts, which was obviously a plus, considering all the important teen texts that were not to be deleted.
There was no doubt that my next phone would also be a Nokia, though I'm not even exactly sure which one it was, with all the number combinations they used. I only remember that it was one of the first ones with a color screen – that unfortunately also didn't last very long. Then however, I became unfaithful and jumped on board with Motorola when the 3G version of the Motorola Razr came out. It was the smallest 3G phone available, the RAZR was the coolest shit around and I gave in (contrary to what most people think of themselves, advertising works fine with me). Over in Vancouver I picked the cheapest phone available, which coincidently also was a Motorola with the same crappy software.
Then back home in Vienna, after quite a bit of pondering and looking at what Nokia had done in the meantime, I decided against the N95 and for the iPhone. It was a hard decision (not real-life hard, but in the realm of products), not because I had anything against Apps or the product, but because already back then I hated the way that a bunch of idiots who had no idea of what Apple used to stand for, of technology or of the creative industries, were wearing their white headphones like a badge of honor, proudly showcasing their iBooks/Macbooks, bashing Windows and Linux and in general pray at the altar of Jobs. Don't get me wrong, I always loved their OS and hardware but already then "The Great Product Claim" and the way that Apple's smug "brand behavior" rubbed off to a lot of their now mainstream customers got on my nerves big time. The "I'm a Mac" campaign, while obviously catchy, made Apple look like a bunch of arrogant idiots.
I still bought it because back then, there was no comparable product experience in terms of touchscreen and applications. It just wasn't there. But I do have the feeling that Apple, while building their ecosystem-empire and growing bigger and bigger, were constantly withdrawing from their "brand equity", from the symbolic resources that shaped their public perception. Sure, that's not going to bother them in the short term, because they can still sell this one device in all kinds of different sizes, but their success came – no matter how often Amir Kassaei repeats it – never only from the design and simplicity of "the perfect product" (that it isn't and that doesn't exist), but also from the symbolic resources it provided. Symbolic resources that went into the common knowledge about Apple because a bunch of nerds and hipsters from the creative industries were Apple, loved the OS, had the G4s, made their flyers on it and used it to DJ once they became to lazy to mix with vinyl. Think different and all.
Now, not so much anymore.
And so, while Nokia's software was and is apparently crap for the last years and couldn't remotely keep up with Android and Apple, and while they also neglected the symbolic parts for ages – I haven't experienced anything that would make me feel a Nokia brand in Canada and also nothing in Austria for a while – they at least seem to have woken up. If Apple is moving away from their old heritage and Android is working on becoming the new mobile Windows, Nokia is in the strange position of being the challenger brand, while still being market leader.
This means that they simultaneously have to work on fixing their OS/App-store issues, but also work the edges of culture and their developers, the ones that Apple doesn't give too much of a damn about anymore. And they have to continuously throw out millions of phones to defend their market share in the meantime. They have a chance to build what Apple built on one device and what Android is trying to do with all the different bloated brand versions of their OS, on a base of hundreds of millions of users of one brand who will trade up for smart-phones at some point. Think about it: if all the others are joining Android, and Palm and Microsoft more or less take themselves out of the game, why would you not be the third big guy in the market. (BB will always be business niche.)
Judging from what has come out of Nokia since the Nokia World, it seems like they at least get the symbolic part right and they're working with different communities and developers to get their vision out there into reality.
Typical W+K brilliance, this is just lovely and puts different communities of do-ers and makers in the spotlight. DIY is a rich territory right now and you can break out every single project for different length features.
Sounds a heck of a lot like a hungry challenger brand. And that is a good sign.
1803 comments to date at the website of Austria's liberal daily "Der Standard". Countless protest mails and calls at their headquarter and supposedly a call to boycott the brand in some parts of the internet that I'm not familiar with. And all because of what? Because NÖM – the milk brand from Lower Austria – decided to exclusively supply 300 Turkish supermarkets with bilingual milk packages. Every product in Austria has a multi- or at least bilingual packaging, but mention "Turkish" once in affirmative way in Austria and you provoke a public outcry.
This weekend, I am going to fly up to Hamburg to meet with a bunch of interesting people at the Planning Barcamp, a mini/un-conference around the overarching theme of "Context". As Michaela asked us to come up with topics, I thought it might be a good idea to suggest the title of my bachelor paper that otherwise nobody else would probably read anyways. So, as a preview of what I am going to talk about on Friday (in a less academic and hopefully more interesting way), here's the preliminary introduction to my "thesis":
(Thanks to Christian Riedel, and Michaela for organizing and to the APGD and the Good School for supporting it.)
Creativity is an often used word in the context of marketing communications and brand management. There are magazines named after it, such as Creativity and Creativity Review, there are numerous awards around the globe judging and celebrating it and there is the APG Creative Planning award, which rewards creative strategy in the context of marketing communications and planning.
Creativity, of course is also the selling point of almost every agency or agency-like company trying to make a living in the widening domain of marketing services.
Creativity Is The Most Powerful Force In Business. […] DDB's pursues collaborative relationships with clients and partners to find the hidden potential of people, brands and business through creativity.
[Wieden + Kennedy is] an independent, creatively-led communications agency.
We connect ideas and innovation to deliver award-winning results for the world's leading brands.
We are a creative company with 186 offices and 7000 colleagues united around a single mission: To Resist the Unusual.
Our industry is undergoing radical transformation. To keep pace with the changes being driven by emerging technology, it is vital to focus on collaboration, creativity and organizational flexibility,
MDC Partners fosters the entrepreneurial spirit of our Partner firms by encouraging creativity and autonomy while providing human and financial resources to accelerate growth.
Both independent agencies as well as large established agency networks claim to be at the forefront of creativity. More precisely, as Zurstiege (cf. 2005: 179ff) puts it, what agencies aim to offer and what marketers ask for is effective creativity or creative effectiveness. Therefore, as the relationship between creativity and effectiveness is a regular topic of discussion between advertising agencies and clients, within agencies, the industry press and advertising conferences, there is a stream of research dealing with creativity in the context of advertising. Google Scholar, which searches for scientific literature such as journal articles, displays around 100.000 entries for "advertising AND creativity". Among the discussed topics are the definition and perception of creativity (D. C West et al. 2008; El-Murad & Douglas C. West 2004; Scott Koslow et al. 2003; White & B. L. Smith 2001), the effect of creativity on advertising effectiveness (Ehrenberg et al. 2002; Arthur J. Kover et al. 1995; Dahlen et al. 2008; Till & Baack 2005), and contextual issues that influence advertising and agency creativity (S. Koslow et al. 2006).
However, while creativity is the focus of awards, agency positioning and industry debates, and while there is work in advertising research towards "a general theory of creativity in advertising" (R. E. Smith & Yang 2004) creativity is generally not dealt with in detail in a broader brand management context (Kotler & Bliemel 2006; Fuchs & Unger 2007; Schweiger & Schrattenecker 2009).
For this reason this paper sets out to critically evaluate the functions and premises of brand management and more specifically what roles "creativity" could play in the ever-more-complex environment companies and brands are embedded in.
This is done by first analyzing the concept of brands and brand management as found in a literature review. In addition, the changing environment companies and brands operate in will be described, followed by implications for and a critique of brand management and research on the topic. Then, different meanings of and perspectives on creativity, both in today's marketing industry as well as in the broader business context, will be examined. The last chapter will then merge the two streams and draw conclusions from the synthesis of the current state of brand management and a broader meaning of creativity in a commercial context.
(Will update the sources later.)
So much for the introduction. The good thing is, I'm not finished and will therefore have to present half-baked thoughts as discussion material. Of course, I'll share the thesis here, once it is finished.
Now I haven't posted an ad here in a while.
I have to admit that I've been a little fed up with advertising recently. Not because I'm surfing on the "advertising is the price that you pay for a bad product" wave. I don't. Or because I've been preaching "social media" on a daily basis only to see people now abandoning their former golden calf. I don't do that a lot either. Not even because I've typed myself silly about the "new customer", agency models or how innovation is the new black. I think I've kept all that to a reasonable minimum.
Rather, it's been precisely those debates and discussions that have made me a little tired of the bulk of the advertising discourse. Looking at twitter, blogs and AdAge It seems like everybody who's holding at least a senior planning position in agencies big or small is busy hopping from conference to conference talking about the demise of the industry. Of course, not every stream of that discussion is dull and I've learned a lot from reading people who are incredibly smart and generous with their knowledge and experience. I'll attend a planning barcamp myself this summer. And anyways it's probably more an outsider perspective than an informed insider view. But still, my impression is: a lot, a lot of talk.
(Disclaimer: The next sentences may come across as a little bit of ass-kissing. And I agree. But then again, credit where credit is due.)
When I talk about exceptions, one of the agencies that has always been impressive in my eyes is – of course – W+K. Yes, they blog. Yes they retweet when their work is mentioned. Yes, they even have an opinion and voice it from time to time. But in general, their planners seem to be more busy (unsuccessfully) helping Labour to win elections than further contributing to the echochamber. Or repeatedly doing awesome stuff. And this is, in my humble opinion, a very good thing.
Now that was a very long prelude for a video. Here it is: Nike "Write The Future".

This fully integrated campaign, spanning TV, cinema, print, digital, out-of-home and non-traditional executions is the culmination of an 18-month long collaborative effort led by W+K Amsterdam with support from W+K London and W+K Portland. While digital teasers were released on May 15th to build buzz ahead of the campaign, the official unveil is this epic 3-minute film called "Write the Future," launching online tonight. The global broadcast will debut during the May 22nd European Club Final, a feat that required seven versions and 30 cut-downs to accommodate distribution to major networks in 32 countries.
Put simply: it's an awe-inspiring peace of film. (Read their full background info here.)
From what can be seen in the admitedly media-biased twitter search people are loving it. They talk about it. And they will implement it in their lives. Heck, the whole set-up with different slices and pieces of film for different culture is brilliant. This is probably what Ehrenberg meant when he wrote about "Advertising as Creative Publicity". This is what Lannon/Cooper meant when they wrote about humanistic advertising and asked the question "What do people do with ads?" – in 1983. And this – too – is advertising.
As a result of the content analysis of this literature, we identified twelve main themes which we thought were an accurate categorisation of the broad range of definitions of the "brand" in the literature, i.e. as: i) legal instrument; ii) logo; iii) company; iv) shorthand; v) risk reducer; vi) identity system; vii) image in consumers' minds; viii) value system; ix) personality; x) relationship; xi) adding value; and xii) evolving entity. The categorisation into the twelve themes was fairly straightforward, since most authors used buzz words such as "personality" or "relationship" either in the definitions themselves, or in the discussion of their view of the brand. As we discuss in more detail in below, there is some overlap among the elements of different definitions, which are therefore not mutually exclusive. However, the twelve themes represent a categorisation of the most important propositions in the branding literature.
This is a quote from de Chernatony, L. & Riley, F.D., 1998. Defining A "Brand": Beyond The Literature With Experts' Interpretations. Journal of Marketing Management, 14(4/5), 417-443.
I think it's valuable to read this kind of stuff and deal a fair share of time with what could be denounced as a pure semantic, abstract and theorectical exercise. Why? Because it could eventually help me to understand the perspective a client, partner, team or boss has on the topic, which in turn allows me to reach a goal easier just by making my thinking – or its packaging – more compatible with the associations people already formed. (That, and finishing my bachelor thesis …)
A sign showing how subjective our business is (as Russell Davies has pointed out before)? Rubbish and useless academia?