After getting a lot of useful comments (thank you!) on my initial brainstorming on possible topics for my master thesis I cut them down to three and handed in a description of three very broad topics, all with some more concrete research questions: (1) 'Post-Postmodern' Uses of Brands and Media?, (2) 'Continuities from Propaganda Theory to Planning:' and (3) Reception and Usage of 'Transmedia' Narratives.
So here's my translated description of topic (1), that I handed in before leaving and which has got a strong endorsement from the prof while I was in Tanzania.
'Post-Postmodern' Uses of Brands and Media?
According to Holt (2002) there are two relevant branding paradigms in the 20th century. The first is called "Modern Branding" and was based on a domineering, cultural engineering approach. It was dominant until the 60s, when the 'creative revolution' around people like Bill Bernbach appeared.
Marketers made no pretense about their intentions in these branding efforts. They directed consumers as to how they should live and why their brand should be a central part of this kind of life. Advertisements shared a paternal voice that is particular to this era. By contemporary standards, these ads appear naive and didactic in their approach. This paternalism reveals that, at the time, consumer culture allowed companies to act as cultural authorities. Their advice was not only accepted but sought out. (Holt 2002: 80)
This modell – now being popularized by the TV series Mad Men – was inspired both by Freudian psychoanalysis and the scientific approach to advertising and persuasion at the time, provoked rising resistance in the 60s, with books like The Hidden Persuaders and other critical analysis appearing on bookshelves. With the increasing professionalization of the industry and knowledge about the branding paradigm more and more entering the public sphere, the public opinion was increasingly directed against the supposed manipulation of the individual.
Branding could no longer prescribe tastes in a way that was perceived as domineering. People had to be able to experience consumption as a volitional site of personal development, achievement, and self-creation. Increasingly, they could not tolerate the idea that they were to live in accord with a company-generated template. (Holt 2002: 82)
In reaction to the creative and anti-commercial countercultures of the 60s – and with that at the time when interpretative approaches started to challenge the predominant stimulus response thinking – a new branding paradigm emerged. Holt calls this paradigm "Postmodern Branding". In a postmodern consumer culture, the role of branding would emerge from the supplier of a cultural blueprint – "How should I live?" – to supposedly authentic, cultural ressources to be used for the identity projects of consumers who strive for independence from paternalistic and authoritarian corporations.
Postmodern consumer culture has adopted a particular notion of authenticity that has proved particularly challenging to marketers. To be authentic, brands must be disinterested; they must be perceived as invented and disseminated by parties without an instrumental economic agenda, by people who are intrinsically motivated by their inherent value. Postmodern consumers perceive modern branding efforts to be inauthentic because they ooze with the commercial intent of their sponsors. (Holt 2002: 84)
To produce these ressources in a distanced and commercially disinterested way, five branding techniques – also made public by Klein 1999 and Frank 1998) have emerged over time: (Holt 2002: 83ff)
Authentic Cultural Resources
Ironic, Reflexive Brand Persona
Coattailing on Cultural Epicenters
Life World Emplacement
Stealth Branding
All of these techniques however, are confronted with substantial contradictions. Ironic distance has been imitated without end and is now outdated, stealth marketing is getting more and more aggressive and reaching its limits, marketers are running out of counterculture content to tap for their campaigns as the authenticity market heats up, consumers are increasingly peeling away the brand veneer and "collectively, postmodern branding floods social life with evangelical calls to pursue personal sovereignty through brands" (ibid.).
For Holt these phenomena (published in 2002 – before 'social media' even existed) pointed to an expiration of the postmodern branding paradigm. Whereas brands in the future would still have to offer authentic and relevant resources, authenticity won't not be conveyed distance the brand from a profit motive, but through a role that Hold calls 'citizen artist'.
So brands will become another of expressive culture, no different in principle from films or television programs or rock bands (which, in turn, are increasingly treated and perceived as brands). […] Postmodern brands have little value in this new consumer culture. Because they rely so much on the cultural work of disinterested others and work so hard to deny that the brand itself stands for anything by itself (for fear of being tagged as cultural engineers), postmodern brands lack an original point of view that they can claim as their own. Rather than take a free ride on the backs of pop stars, indie films, and social viruses, brands will be valued to the extent that they deliver creatively, similar to other cultural products.
The citizen part on the other hand is concerned with the socially responsable behavior of corporations and their brands, basically answering the question of what is behind the brand veneer.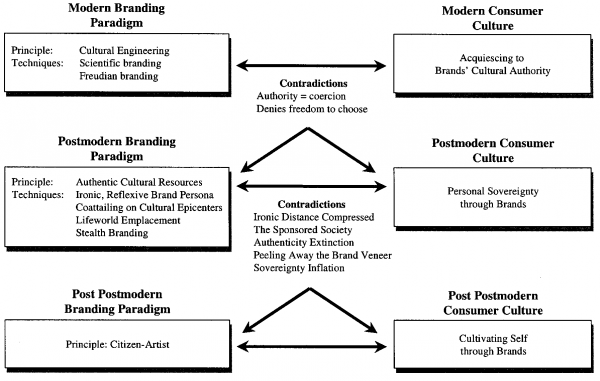 This topic and Holt's only superficially covered hypotheses give rise to a lot of questions that might be covered in a master thesis. (Not all in one of course …)
What – to people – is authenticity in advertising and marketing communication? How is it operationalized? What are expectations?
How does authenticity translate in regards to aesthetics – from user-generated content to brands using a documentary style?
How does the use of digital, social networks ('social media') have affect the 'corporate cool machine' as described by Holt in the postmodern branding paradigm. Is his hypothesis regarding brands being used in the role of citizen artists true? Or, more concrete: which range of uses of original, authentic and creative brand content can be shown? And in regards to the 'citizen' part of the hypothesis: do people really look behind the brand veneer and if so, how?
Frank, T., 1998. The Conquest of Cool: Business Culture, Counterculture, and the Rise of Hip Consumerism, University of Chicago Press.
Holt, D.B., 2002. Why do brands cause trouble? A dialectical theory of consumer culture and branding. Journal of Consumer Research, 29(1), S.70–90.
Klein, N., 1999. No Logo: no space, no choice, no jobs ; taking aim at the brand bullies, New York, NY: Picador.
Mad Men – AMC. Mad Men. Available at: http://www.amctv.com/originals/madmen/